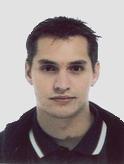 I am currently working as associate professor at LAGA (Sorbonne Paris Nord University).
I am a Doctor of mathematics. The title of my thesis is:
I worked under the supervision of Francis Ribaud.
I am studying non-linear partial differential equations. My main research areas are
Dispersive partial differential equations,
Schrödinger, KdV, wave equations,
Well and ill posedness for the Cauchy problem,
Asymptotic behaviour for solutions,
Dissipative effects on dispersive equations,
Harmonic analysis.